Do you have existing molds that run on an Autocast mount rail machine? CMH can adapt our time proven #6H to run these molds with more stroke and ejection clearance than the original Autocast machines. See #6H, traditional tilting machines, for machine specifications.
Reemplazo de Rielles y Espacios de Montajes
* Moldes montados sobre rieles y guías son diseñadas para montarse permanentemente en moldes.
- 30 x 30in (762 x 762mm) 
- 36 x 36in (914.5 x 914.5mm) 
- 42 x 42in (1066.8 x 1066.8mm) 
- 48 x 60in (1219.2 x 1524mm) 
máquinas de inclinación por lluvia.
Especificaciones
---
Key Mount Rail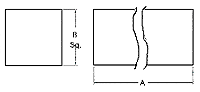 | | | | |
| --- | --- | --- | --- |
| Product Number | A | B | Unit Weight |
| KEY-30 | 29 7/8in (75.88cm) | 3/8in (0.95cm) | 1.3lbs (0.58kg) |
| KEY-40 | 39 7/8in (101.28cm) | 3/8in (0.95cm) | 1.7lbs (0.77kg) |
Top Rail
| | |
| --- | --- |
| | * Rieles son sentados y maquinados por todas sus caras. |
| | | | |
| --- | --- | --- | --- |
| Product Number | A | B | Unit Weight |
| KEY-30 | 29 7/8in (75.88cm) | 4.0in (10.1cm) | 48lbs (21.7kg) |
| KEY-40 | 39 7/8in (101.28cm) | 4.0in (10.1cm) | 64lbs (29kg) |
Spacer Mount Rail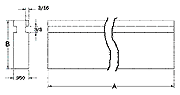 | | | | |
| --- | --- | --- | --- |
| Product Number | A | B | Unit Weight |
| SPACER-30 | 29 7/8in (75.88cm) | 3.0in (7.62cm) | 24lbs (10.8kg) |
| SPACER-40 | 39 7/8in (101.28cm) | 3.0 (7.62cm) | 32lbs (14.5kg) |
Bottom Rail
| | | | |
| --- | --- | --- | --- |
| Product Number | A | B | Unit Weight |
| BRAIL-30 | 29 7/8in (75.88cm) | 3.0in (7.62cm) | 54lbs (24.5kg) |
| BRAIL-40 | 39 7/8in (101.28cm) | 3.0in (7.62cm) | 74lbs (33.5kg) |